Denver Custom Closets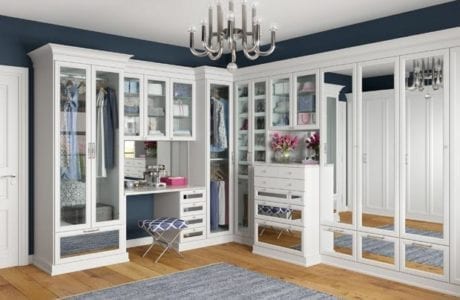 TURNING YOUR DREAM CUSTOM CLOSET INTO A REALITY
When you're designing your own dream closet, what does it have? Here are some things to consider:

- Ample Space to Store Everything You Need
- Easy-to-Access Layout
- Beautiful Cabinetry, Shelving & Accessories
- Stylish Finish & Trim

Turning your dreams into a reality can be a challenging task when it comes to your closets. That's why you can rely on the help of California Closets of Denver. Custom closets designed and built by our team deliver elegant beauty, intuitive design, and exceptional build quality.
---
CUSTOM CLOSETS 101
If you need some advice on what to do for your own closet, read our quick-and-easy guide below.

- Step 1– Plan Based on Usage: Make sure to design based on what you need and how you access your clothes, shoes and accessories.
- Step 2– Think of the Whole Space: Beyond your cabinets and shelving, remember to utilize all of your closet space. This includes wall hangings, cubbies near the floor, and other storage.
- Step 3– Consult the Experts: We can take your design ideas and transform them into a beautiful, functional closet solution.

What are you waiting for? Schedule your complimentary in-home design consultation here in Denver today.
---
Your new closet starts with a
— complimentary design consultation —