Albany Walk-in Closets
Let Us Create a Walk In Closet That Inspires Organization and Class
Just because it's a closet doesn't mean you can't leave your mark on it. Here at California Closets, we believe that even your walk in closets should reflect your style and your personality. Your closet is an extension of the most tranquil, peaceful room in your house – your bedroom. It should operate as an organized, efficient space that allows you access to everything you need, when you need it.
Whether your walk in closet is large or small, we treat it as a room of its own. Our design team will work with you to turn your vision of your dream home into a reality – and come with innovative tools that make storage and function simpler.
---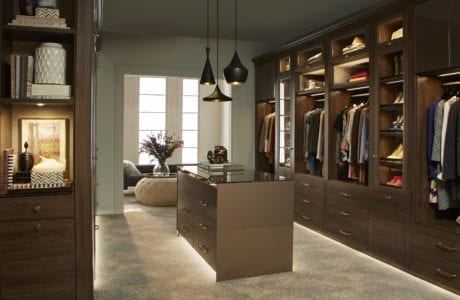 Closets can easily become a catch all spot for everything that doesn't have its own space – and our goal is to create a space for everything you own. With designated jewelry and shoe shelves, bench seating areas, decorative molding and specialized lighting, we create a room within your walk-in closet that you enjoy being in.
We want you to enjoy the time you spend in your closet and inspire efficiency rather than the frustration you feel when things aren't where they should be. We collaborate with you from start to finish to ensure that we know which extra options are important to you, and where you need extra attention to stay organized.
Our customer service is unparalleled, and we offer a limited lifetime guarantee on our work and products. We guarantee you won't find better service or higher quality workmanship for your Albany home from any other company.
---
Your new closet starts with a
— complimentary design consultation —