Getting the Garage Together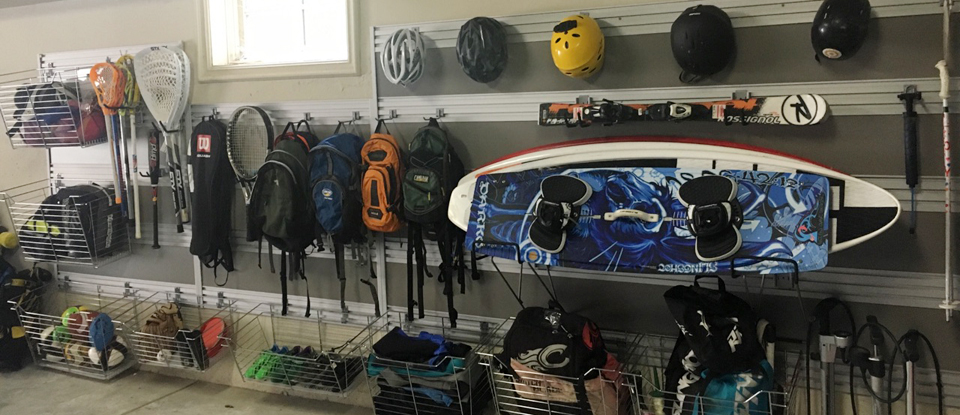 California Closets Design Solutions with Tips from Neat Method
Garages can be a tough to keep organized over time.  From bikes and boxes, to life's collection of tools, games and toys, contents can pile up and reduce the functionality of the space. Big or small, a well-ordered garage can make storage more efficient and San Francisco California Closets design consultant, Steve Rothgery and Neat Method organizational expert, Lisa Ruff, share how they transformed one overloaded garage into an accessible environment to enjoy.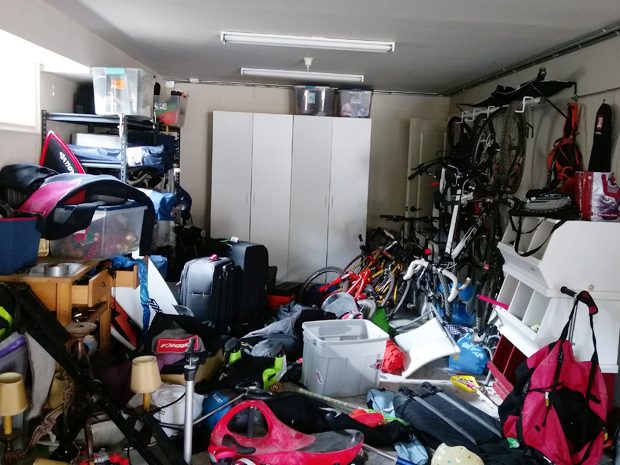 What was your vision for the space?
Lisa: As is obvious from the photographs, the client could have easily opened their own sporting equipment store!  Because the family is very active all year around, we wanted to create a "store" for them in their garage that they could "shop."  We knew right away that they needed something hyper-specialized to make it work, so I contacted Steve before I even left the initial client consult to design a smart garage storage system.
How did you get started?
Steve: In keeping with our approach to many garage organization systems, the initial concept was to make all the items in the room visible and accessible. We started out rendering a design concept that would clear the floor in the middle and leverage the wall space on either side.
 How does the system address the previous storage issues?
Steve: One side was set up to include "locker" style garage storage cabinets (one for each member of the family). The lockers hold the items used everyday for each season and this made the entire process of coming and going so much more organized and efficient.
On the opposite side wall, we set up a Fusion Wall to house "community items, " larger items and sports gear not in everyday use. This area can be easily changed and reorganized seasonally or as needs change.
What do love about the functionality of the new organization and storage?
Lisa:  Every single item has a dedicated spot! This family needed to be able to grab a racket without thinking then jump in the car.  On the flip side, they also needed to be able to easily put equipment away and be discouraged from simply dropping items into a pile.
Lisa's quick tips when it comes to tackling the garage space?
Give yourself room to grow.  If you are a family with young children, your needs are very different than a family with teenagers.  Make sure your storage solutions can grow with your needs.
Label, label, label!  More so than almost any other space in the home, the garage needs to be well labeled.  It can easily become the de facto dumping ground for the transition between car and home, so encourage your family to put things back in their proper spot with clearly labeled baskets, drawers, shelving & other garage accessories.
Steve's quick tips when it comes to tackling the garage space?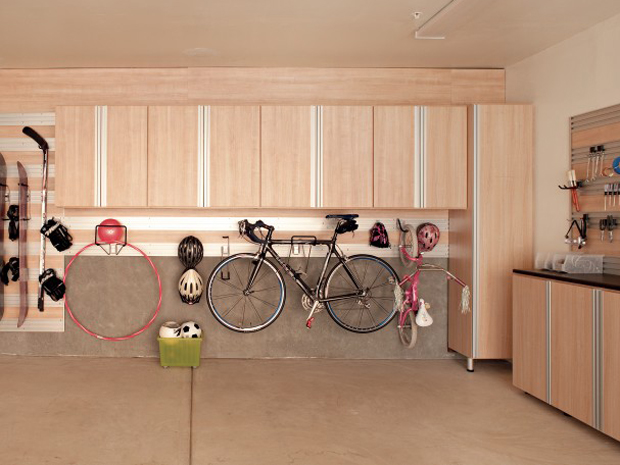 Start by reviewing what you need and what you are using. Donate old or out grown gear.
Go up – use the walls to store vertically. Fusion Walls make items easier to see and access.
Separate seasonal items – no need to be tripping over the skis in July. Think about keeping them on upper shelves or above other more active items.