Design Challenge: How to Save Space in a University Bachelor Pad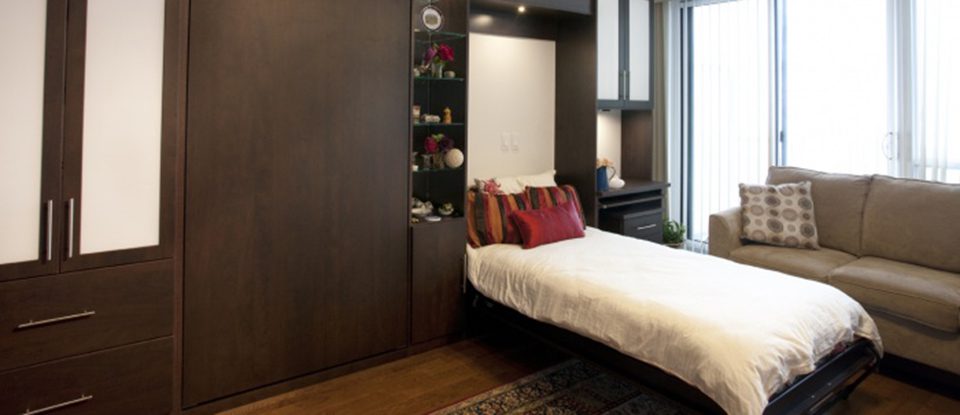 A California Closets client in Pakistan recently presented an interesting challenge to experienced design consultant Devra Wasser of California Closets Toronto: Her two sons would be attending university halfway across the world and she wanted to set them up with an efficient, well-designed apartment.
Wasser was more than up for the challenge. Her design conveyed a sophisticated but comfortable look with Chocolate Peartree finish, brushed nickel hardware, and Ice White glass inserts. Glass shelving backed with a mirror, along with lighting in every cabinet, added to the sleek look.
Below, Wasser shares how she designed an apartment for her client's sons that included all of the functionality requirements they needed in one amazing design.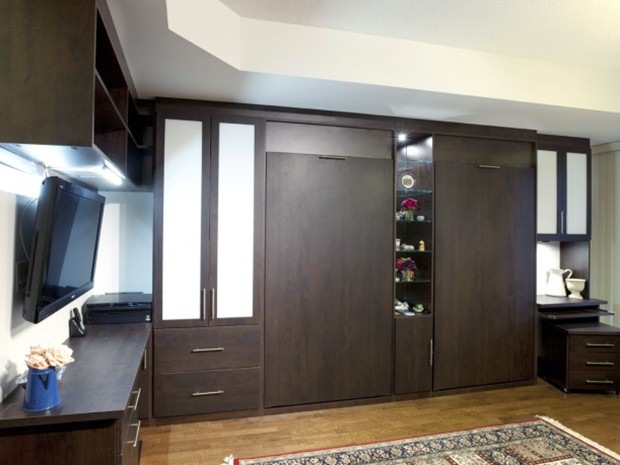 Sleeping
Wall beds, also known as Murphy beds, were a big part of my design because the boys would be living in a small, 400-square-foot apartment in downtown Toronto. The wall beds would allow them to use the space for studying and hanging out with friends during waking hours. When it was time to sleep, the simple pull-down mechanism on the built in Murphy bed would be a breeze.
I also included a nifty feature—puck lights that were installed above the head of the beds. When the wall beds opened up, the overhead lights turned on, and when the beds closed, the lights turned off.
Storing
As for storage space, the tiny abode included just one reach-in closet in the entryway. I optimized the small closet design by adding double hanging rods for shirts, and shelves for shoes and gloves. A wall unit in the main room also included shelving, drawers, and cabinets to accommodate more belongings without cluttering the space at all.
Studying
Despite what some college students believe, you're actually supposed to study while you're away at school. I made sure to include two desk units for the brothers, one located under the TV on the left and one to the right of the beds. A rollaway drawer unit could be easily moved to the side to create an L-shaped work area as well, providing another desk option for the boys if they ever needed more space.